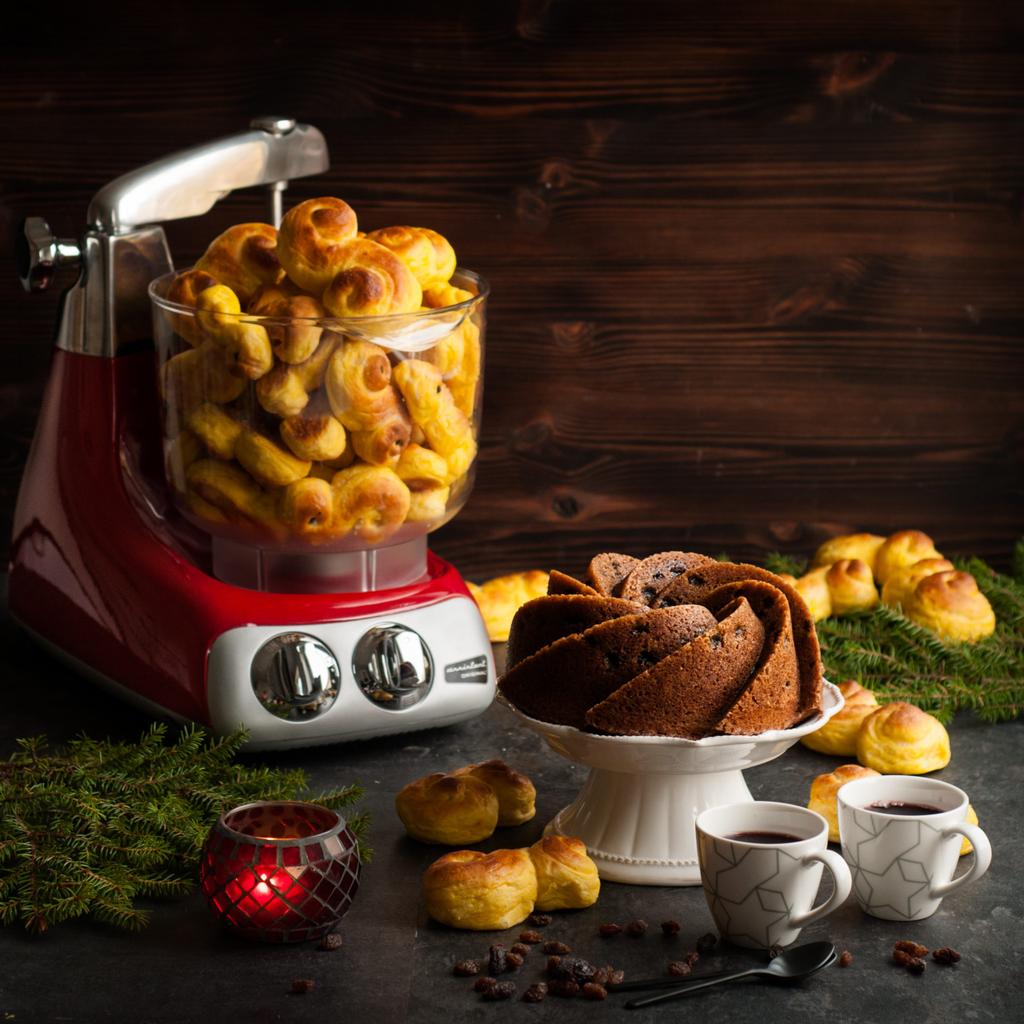 Christmas recipes 
Christmas recipes 
It's the most wonderful time of the year! Christmas time means to get together with family and friends over food with tasty, homemade Christmas treats you can't resist. We've got a bunch of recipes including delicious gingerbread, saffron cupcakes and more! Let's roll up our sleeves and get cooking—and baking! From small details, like the bright colors and specific smells, to new traditions, like exchanging gifts on Christmas Eve, nothing is more exciting than preparing for the Christmas holiday. The air is chilly and all the trees are covered with lights and decorations. Getting together with the family has never been so fun and joyful! 
When it comes to Christmas baking, there are a whole large amount of recipes to make such as classic gingerbread, soft gingerbread and saffron buns. You can find all of our Christmas recipes here. During Christmas time, you snuggle up with loved ones and enjoy gathering around the table. Here's a collection of Christmas recipes on how to make sure your gatherings are full of joy and laughter.
The best Christmas recipes this year
If you want the best of Christmas recipes with a twist that will bring new traditions to your family, you are definitely in the right place! Fudge with licorice, eggnog with cinnamon and fluffy saffron buns? Check! How about luxurious saffron buns with almond paste? Coming right up! We have Christmas recipes that make baking with loved ones fun and delicious. But even if they're not counting, you're still likely to celebrate with many family and friends. Looking for new and fun recipes? We've got you covered. Fun, easy-to-make menus for any occasion; And with our Stand Mixer from Ankarsrum you can easley cook and bake for life's biggest moments.
When snowy days are best spent snuggled up by the fire, nothing is better than warm and fluffy saffron buns. On a cold night, nothing beats hot chocolate with saffron buns, right? And there's no reason the rest of the year can't be a little livelier – sprinkle slivered almonds and pearl sugar over your homemade saffron buns and turn any Christmas party into a festive treat!
Here's a gluten-free Christmas cake with tart orange slices and caramelized and sweet surface – ready to be eaten at any time during the Christmas celebration. This Christmas cake also contains star anise, which is a classic Christmas spice that really adds flavor to this wonderful, allergy friendly dessert!
Gingerbread cookies are a must have during Christmas time! Nothing says Christmas more than these Christmas cookies rolled in powdered sugar! Gingerbread is still very versatile and is also used to make gingerbread houses! 
Who doesn't love cupcakes? There are lots of recipes for them, but we have the winning formula for the perfect winter treat. Saffron cupcakes with an amazing Nutella frosting. Your family and friends will be sure to love these delicious treats! 
Nothing is as cozy and friendly as these saffron buns during Christmas. These fluffy buns are a must at Christmas celebrations but are also a classic snack during this time of the year. You can top them with pearl sugar, slivered almonds and raisins if you want the little extra Christmas flair. Regardless of the content or toppings these classics are a must!
Our Christmas cake recipe is one that everyone will love, regardless of their age. The cake can be served with or without icing, and can be cut into beautiful shapes. A soft Christmas cake is a classic that can be varied endlessly. In our recipe, you get a Christmas cake with the classic christmas ingredients like orange and cinnamon. 
Fudge is a given favorite on the Christmas table! But you might want to try our recipe for licorice fudge with spicy cardamom included here. You can't go wrong with fudge for a Christmas sweet treat. Our recipe for licorice fudge with spicy cardamom is a tasty addition to the holiday candy table this year. 
Our eggnog is the best this Christmas! With ground nutmeg and cinnamon it gives a luxurious feeling, the best tip is to serve warm but you can also enjoy it cold if you like. It is easy to make and very tasty. Christmas is here; add a little spice to the holiday season!
The best Christmas recipes 2022 
We at Ankarsrum want to take the opportunity to wish you all a Merry Christmas and Happy Holidays! Our hope is that you will celebrate Christmas with loved ones and really take the opportunity to unwind, recharge, and spend time with family. Whether you celebrate Christmas, Hanukkah, Kwanzaa, Festivus or any other type of holiday and new year celebration, we hope you have a fun and relaxing time with those close to you.